On 17th June the OBIE invited a panel of small business, fintech and enterprise experts to discuss economic effect of Covid-19 on the UK's SME industry – and the potential of open banking to address that impact. This webinar is now freely available – with contributions from:
Mark Chidley, Independent Small Business Representative to the OBIE (Moderator)
Philip King FCICM, Interim Small Business Commissioner
Andrea Reynolds, Founder & CEO, Swoop Funding
Wendy Tapia, Product Manager (Banking), Sage
Key points from June's SME Forum
In mid-June over 70 small business experts, fintechs and banks came together to consider the role that open banking could play in helping the UK's SMEs recover from the COVID crisis.
The small business community is being profoundly impacted, with 20% stopping trading altogether during lockdown and 30% with turnover reduced by a half. Nearly a million small businesses have used the Government's lending schemes to survive.
A "seismic" impact on Small Businesses
Philip King, the interim Small Business Commissioner, described the impact as "seismic," both commercially and emotionally, with many entrepreneurs worrying over the future of their businesses. Andrea Reynolds, the founder and CEO of Swoop, reported a 1000% increase in applications through their lending platform. This inundation of requests for support includes many that have avoided borrowing up until now.
Acceleration in change
The panel highlighted the way that the crisis was accelerating existing trends, with changes expected to take many years happening in months – not least the dramatic reduction in cash use which has left many small businesses behind. Access to timely information is critical, according Weny Tapia of Sage, who went on to remark that small businesses require reliable data not only on the support options available but also on their own performance. Waiting on quarterly accounts is no longer an option.
A perfect storm is coming
Each panel member remarked on the need to prepare for the future. Andrea Reynolds explained that many businesses will need to start repayments while still managing the impact of the crisis – and she expects many viable businesses which will struggle to remain liquid. For the good of the UK economy, it will be essential to avoid situations where good businesses get defaulted. Open banking enables lenders to take a data-driven view – or to match businesses to a lender who does. "Open banking is really going to come into its own in the recovery phase."
Philip King said that "if we think the last 3 months have been tough, we haven't seen anything yet". Small firms may struggle to get their usual credit lines – think of a plumber buying on credit at the builder's merchant. Cash management will become central, and small businesses may need to start using services they have avoided up to now – such as fintech and Open Banking.
For Wendy, the challenge was also about productivity. Firms need to ask themselves – are the tools I used pre-COVID still applicable? Automation of repetitive tasks is a key benefit: Sage estimate £3bn is lost in unnecessary admin tasks. Firms also need to bring all their financial holdings into one place (most have 3 – 4), so that they can see anomalies, issues and problems ahead of time. Finally, for Wendy, it was giving businesses the tools to plan for scenarios – what if we lockdown again? What if business doesn't recover fully in 2021?
Open Banking – what's in it for me?
All panelists were clear. Open Banking is not an end in itself. It's a tool to help small businesses get better deals, better insights, become more productive, more resilient. Andrea quoted an example of a small firm who was able to save £8,000 in fees on international payments, simply by looking at their financial data through the lens of open banking. For Philip it was about giving businesses the tools to look at their data and get meaningful insights from it. For Wendy, it was about using these insights to look forward not back. She wanted a world where businesses weren't reviewing old accounts, but were thinking about and planning for the future.
Making it happen
Most of the questions posed to the panel focused on 'making it happen'. one audience member had heard that even though 72% had heard of open banking only 8% knew how it could help them.
Andrea said that the challenge was distribution. She referenced Swoop's recent agreement with the British Chamber of Commerce as an interesting template for getting effective solutions into the hands of those who need it. – through banks, advisors, government.
Philip also saw a role for Government in this space, but more in the education space. He agreed it was practical benefits that count, and pointed to the need for good open banking case studies.
The final question was whether now was the right time for open banking. Mark Chidley wrapped up the session by asking: "if you can't change when times are changing them when are you going to change?" Small business face monumental challenges in the coming years and many will need to overcome their distrust of new services, new processes and new providers if they are going to thrive in this new environment.
Join our SME Forum community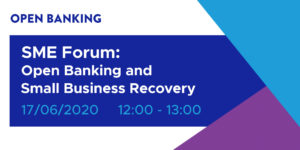 Our SME Forum is a quarterly opportunity to hear expert analysis and share insights on the potential of open banking for the UK's small and medium enterprise community. Register your interest today to be notified about future events.
By registering you confirm that OBIE can contact you concerning events – read our Privacy Policy to learn more.
Small Businesses, Covid-19 and Open Banking.
Mark Chidley, the Independent SME Representative to the OBIE, reviews the subject for discussion at our next SME Forum – the potential of open banking to support the UK's small and medium businesses as they work tirelessly to not just survive, but thrive, in the post-Covid 19 recovery.
Small businesses are bearing the brunt of the Covid-19 crisis. How can open banking-driven products and services help them not only survive, but recover? This subject will be addressed at the Open Banking SME Forum to be held on Wednesday 17 June 2020 between 12.00pm and 1.00 pm.
I'll be posing this question to Philip King, the interim Small  Business Commissioner, as well as Andrea Reynolds, CEO of Swoop, and Sage Product Manager Wendy Tapia. Ahead of what we want to be an engaged and interactive session, here are some thoughts for consideration.
During the Covid-19 emergency, 23% of small businesses have seen turnover reduce by a fifth, 30% have seen it fall by over half, while 20% have ceased trading completely. This is a significant test for the UK's financial services and FinTech industry players, who need to step up to help SMEs, the vital engine of the UK economy.
Furlough, Government-backed loan schemes (CBILS and BBLS) and VAT deferral are helping businesses survive, but what is needed to help small businesses recover?
Post- crisis, small businesses will need to:
Come to terms with a new or increased debt burden
Obtain insight to help them plan better and protect cashflow
Review how they make payments and get paid
Coming to terms with a new or increased debt burden
The post-Covid recovery will likely have a long tail. Even during the crisis, many small businesses continue to go to their existing bank for loans, without exploring what alternatives may be available. We'll be discussing open banking's role in supporting small businesses to get the best value and most suitable financial products.
Obtaining insight to plan and protect cashflow
Business owners during this period will need to be aware, adaptable and agile – ideally based on real time business information. The SME Forum will examine how open banking enables intelligent platforms and analytical tools to securely leverage up-to-the-moment bank data, to feed critical insight back to small businesses.
Reviewing how they make payments and get paid
While digital and card payment volumes are growing due to Covid19, both cash and card-based payments are costly for small retail businesses. We'll be reviewing why Open banking-driven payment initiation services are emerging as a viable alternative, and their potentially huge benefits across cost savings, cash flow and speed of settlement.
Next week's SME Forum has been designed to provide insights into how open banking-enabled services can support small businesses survive and recover from the crisis. We hope you can join us for what promises to be a stimulating and insightful discussion.