Helping FinTechs transform finance for SMEs through open banking solutions.
Hear Chris Gorst, Open Up Challenge Lead at Nesta; Olly Betts, CEO & Co-founder of OpenWrks; Conrad Ford, Funding Options' CEO & Founder; and Andrea Reynolds, CEO & Co-founder at Swoop, discuss the impact the Open Up Challenge has had on their businesses.
Congratulations to the 2018 Prize Winners:

Open Banking: innovation delivering regulatory reform
By Chris Gorst, Nesta's Challenge Prize Centre
Most people wouldn't think of regulation and innovation as easy bedfellows – in the public imagination they have come to be seen almost as the opposite of one another. But the digital revolution, which has disrupted so many industries, is also now disrupting regulation. In particular, it is creating new opportunities for regulators to harness the power of innovation themselves to achieve their goals. Open Banking is an early and prominent example of this.
While many regulators are struggling to cope with the nature and speed of technological change, in the case of Open Banking the Competition and Markets Authority (CMA) has instead sought to capture the power of technology to transform a market for the better.
Responding to the CMA Order
The package of reforms introduced by the CMA in 2017 that included Open Banking also included the Open Up Challenge; a high-profile prize designed to unlock and accelerate the next generation of financial products and services for small businesses.
The government specifically called out the UK's small business community believing that they could benefit most from the CMA's reforms, and it's clear that SMEs want this extra help and support. There is a broad consensus that SMEs have been particularly poorly served by lack of competition in UK retail banking and resulting lack of useful innovation. More than 60% of SMEs said that they would use new services from their bank – such as Bitcoin and peer-to-peer lending – if they were on offer, and 37% of SMEs already use non-bank financial apps to make B2B payments suggesting that they are comfortable with fintech and alternative financial service providers.
Nesta's Challenge Prize Centre & Open Up
The Open Up Challenge was run independently by Nesta's Challenge Prize Centre, with backing from the CMA and funding from eight of the UK's largest providers of SME banking – Barclays, HSBC, Lloyds Banking Group, RBS, Santander, AIB Group (UK) p.l.c, Bank of Ireland UK and Danske Bank. Nesta's Challenge Prize Centre uses challenge prizes to stimulate innovative solutions to big challenges, and we see huge potential to improving regulated markets so they work better for ordinary consumers and small businesses; in areas such as accessing legal advice, affordable credit, energy and pensions.
Open Banking has the potential to transform how businesses engage with financial services and the kinds of services on offer so, working in partnership with the CMA, we designed a prize that targeted specific market gaps and would attract the UK's best fintech entrepreneurs. These market gaps included solutions to problems that small businesses face on a daily basis such as managing cash flow, applying for overdrafts and filling in loan applications, general budgeting, invoicing and taxation.
Fuelling FinTech Innovation
The Open Up Challenge prize launched in February 2017 and culminated in December 2018. During this time, over two stages, the initiative awarded £4.5m of funding. This included seed grants to a number of fintech businesses and awards to six final winners. Stage 1 (Innovation) was designed to encourage credible ideas that promised to deliver the most benefit to small businesses, while Stage 2 (Market Ready) supported entries that were close to being market-ready with solid business models.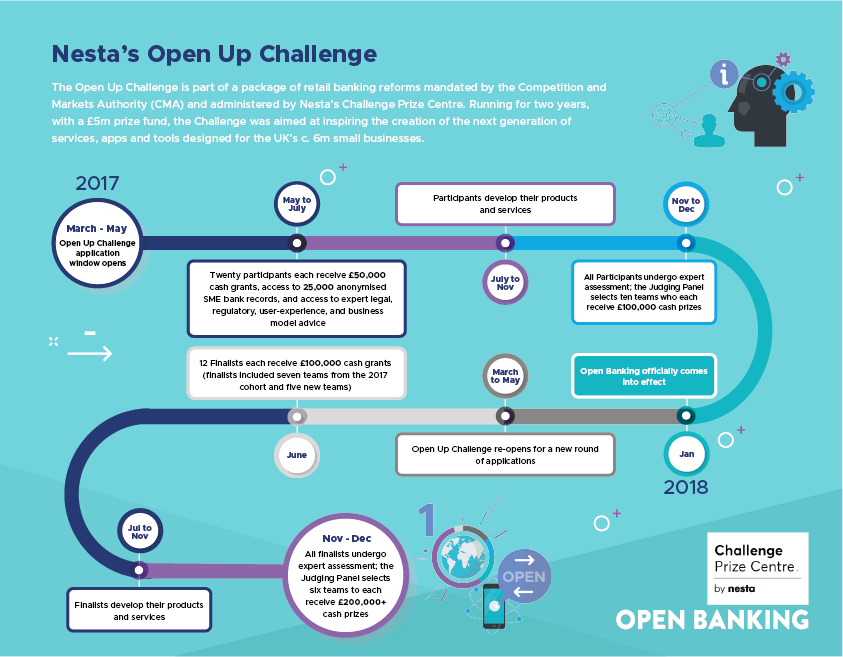 A key benefit of a challenge prize is the flexibility the model offers to get the right support to the right innovators to tackle the problem at hand. Both successful Stage 1 and Stage 2 participants were provided with access to expert advice and technical support throughout including marketing, legal and regulatory expertise. Importantly, the entries were given exclusive early-stage access to data in the Open Up Challenge sandbox – the largest anonymised UK banking transaction dataset ever released – which was of huge value to many of the participants, as well as APIs aligned with the standard enabling teams to test their products.
Judged by an Independent Panel of Experts
The independent judging process was also critical to the success of the Open Up Challenge. An expert, independent panel was kept informed by assessment reports prepared by specialists in user experience, customer acquisition, financial modelling, law and regulation as well as documents, videos and presentations submitted by the teams. It was important that the judges had enough information to reach fair, informed decisions while allowing participants to continue with their projects free of bureaucracy.
Transforming SME Financial Services
Following the rigorous judging process, ten organisations were selected as prize winners at the conclusion of Stage 1 in December 2017. In June 2018, twelve groups were announced as finalists in Stage 2 and in December 2018, the six overall winners were announced:
Responding to Real Demand
A survey that came out half way through the Challenge stated that business owners wanted more government support for their companies, especially in the area of finance. 1 The Open Up Challenge is a great example of this happening in practice, supporting SMEs at all stages of their lifecycles to come to market. The Challenge is a powerful example of how public authorities are combining a new approach to regulation with targeted investment to help make markets work better.
At present, challenge prizes are mainly associated with "moonshot" projects requiring spectacular technological advances, with the Apollo programme perhaps being the ultimate example. But increasingly they are gaining momentum among diverse organisations who share a common ambition to promote innovation that meets the needs of ordinary citizens and small businesses. Particularly when there is support from a forward-thinking regulator, willing and able to capture the power of innovation to make markets work better, the result will be better solutions to society's longstanding and emerging challenges.
---
1. The research was conducted by Toluna on behalf of Specialist Bank, Aldermore via an online panel during March 2017 and March 2018. The sample consisted of 1,799 UK residents, including 642 entrepreneurs, self-employed people and business owners. ↩