Open Banking: enabling solutions for SMEs across the United Kingdom
Paul Uppal, the Small Business Commissioner; Rosie Ginday MBE, Managing Director and founder of Miss Macaroon in Birmingham; and Christophe Rieche, CEO and co-founder of iwoca, talk about the impact Late Payments have on SMEs across Britain, and how innovations powered by open banking technology can help.
Small firms are set for a brighter future, but Open Banking must be part of broader cultural change to get us there.
Martin McTague, Policy and Advocacy Chairman at the Federation of Small Businesses, discusses how technologies including Open Banking have the potential to positively impact the running of small businesses.
Are we heading for a small business utopia? Former US Small Business Administrator Karen Mills is among those using this phrase to describe a future where – thanks to advancements in Open Banking, FinTech and Artificial Intelligence – firms will reap the benefits of seamlessly bringing together banking, tax, invoice, payroll and sales data in one place.
It's an appealing vision. Such an unprecedented overview of different business elements would open up huge opportunities for efficiencies. From an internal perspective, weaknesses, errors and disharmonies could be identified and remedied. Externally, there would be the option to share snapshots of this overview with brokers, finance providers and investors in order to secure better deals and fresh funding.
The open banking, FinTech and Artificial Intelligence trio could also pave the way for eradicating what is perhaps the most dystopian element of corporate Britain: the poor payment culture which is endemic across the country. Research conducted here at FSB shows that the UK is in the midst of a Late Payment crisis, one which destroys 50,000 businesses a year at a cost of at least £2.5 billion to the economy. Eight in ten small firms are suffering from the lost time, administrative burden and mental health impacts that come with being paid late.
As a consumer, you wouldn't dream of walking into a supermarket, putting together your weekly shop, and then telling the cashier that you'll pay up in 60 days. But big UK corporates do exactly this. And they do it in droves. In the UK, 2.2% of all business revenues have to be written off due to poor payment practice. That compares to 0.9%, 0.8% and 0.7% in Hungary, the Czech Republic and Spain respectively.
The collapse of outsourcing giant Carillion last year, under a heap of unpaid invoices, threw the crisis into sharp relief. We wrote to the Chair of the company as early as summer 2017 to flag our concerns about its worsening payment culture. Despite the warning signs, central government continued to award big contracts to Carillion.
Through facilitating automated payment reminders, overdraft warning systems and sophisticated cashflow management platforms, open banking certainly has a role to play in preventing such calamities in future.
But new technology alone will not be enough. Ending the Late Payment crisis requires political will and – critically – a change in boardroom attitudes.
That's why we launched our 'Fair Pay Fair Play' campaign ahead of this year's Spring Statement.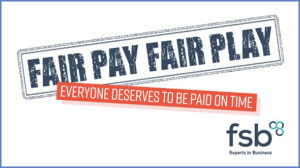 Our asks were straightforward and threefold. First, giving large companies' Audit Committees the responsibility to tackle Late Payments to suppliers, with an obligation to report on their efforts in annual reports. Secondly, a strengthening of the measures already in place to tackle Late Payment: Duty to Report, the Small Business Commissioner's office and the Prompt Payment Code. And finally, the adoption of Project Bank Accounts – where government funds for big projects are ring-fenced and paid directly to suppliers – as is the norm for public procurement.
Thankfully, the campaign was a huge success. The Government has embraced our proposals and the Chancellor included a direct reference to our efforts in his Spring Statement address. Now it's a case of ensuring promises are met. The Government needs to urgently publish its full plans for reform alongside a timetable for their implementation. And, of course, we have to redouble efforts to reach hearts and minds in boardrooms.
Bringing crises to an end and ushering in brighter futures is never easy. But through our campaigning efforts, and the adoption of new technologies, a small business utopia could well be within reach.

"Open banking: helping small businesses manage the challenge of Late Payments."
Mark Chidley, Independent SME Representative to the Open Banking Implementation Entity, shares his thoughts on the challenges facing small businesses in the UK today – and outlines some of the progress that has already been made by the open banking ecosystem.
I think every conversation I've ever had with small business owners features three things. The first is the amount of man hours they 'waste' in just trying to keep up with, and on top of, the financial management of their business – much of which requires manual and monotonous data input. Second, is that they want to get on and focus on their business, rather than admin. And third is their concern regarding the issue of Late Payments.
This challenge is not limited to the UK alone. In its recent report, "Small businesses and productivity", the Business, Energy and Industrial Strategy Committee (BEIS) revealed that the UK performs worse than other countries in terms of the proportion of invoices that are paid late as well as the total amount of late payments. The consequences are serious: approximately 50,000 small businesses go bankrupt each year with the loss of 350,000 jobs due to Late Payments. The BEIS report concluded that without fair payment to provide financial stability, SMEs will not be able to pursue growth. The effect of this on the UK economy is considerable as small businesses account for over 99% of all private sector businesses.
Open banking has a real opportunity to enable products and services that improve SMEs financial management, and therefore their resilience when cashflow becomes tight. Part of my role as the Independent SME Representative to the OBIE is encouraging our ecosystem of Banks and FinTech firms to consider the needs of, and engage directly with, the lucrative SME market. Collaboration between innovators and small business customers can and will spark products and services that address a clearly-defined opportunity, reduce administrative overhead for end-users, and mitigate the risk of Late Payments.
That's why I am thankful to Paul Uppal, the Small Business Commissioner, for his enthusiasm in engaging with the opportunity of open banking. You can hear Paul's comments on the challenge of Late Payments and the prospective benefits of technology developed by the open banking ecosystem in his interview he gave to the OBIE. Our ambition – and the reason we are working to forge a powerful and productive partnership between small business and FinTechs – is to put the UK's entrepreneurs back to work at what they love most, which is their business.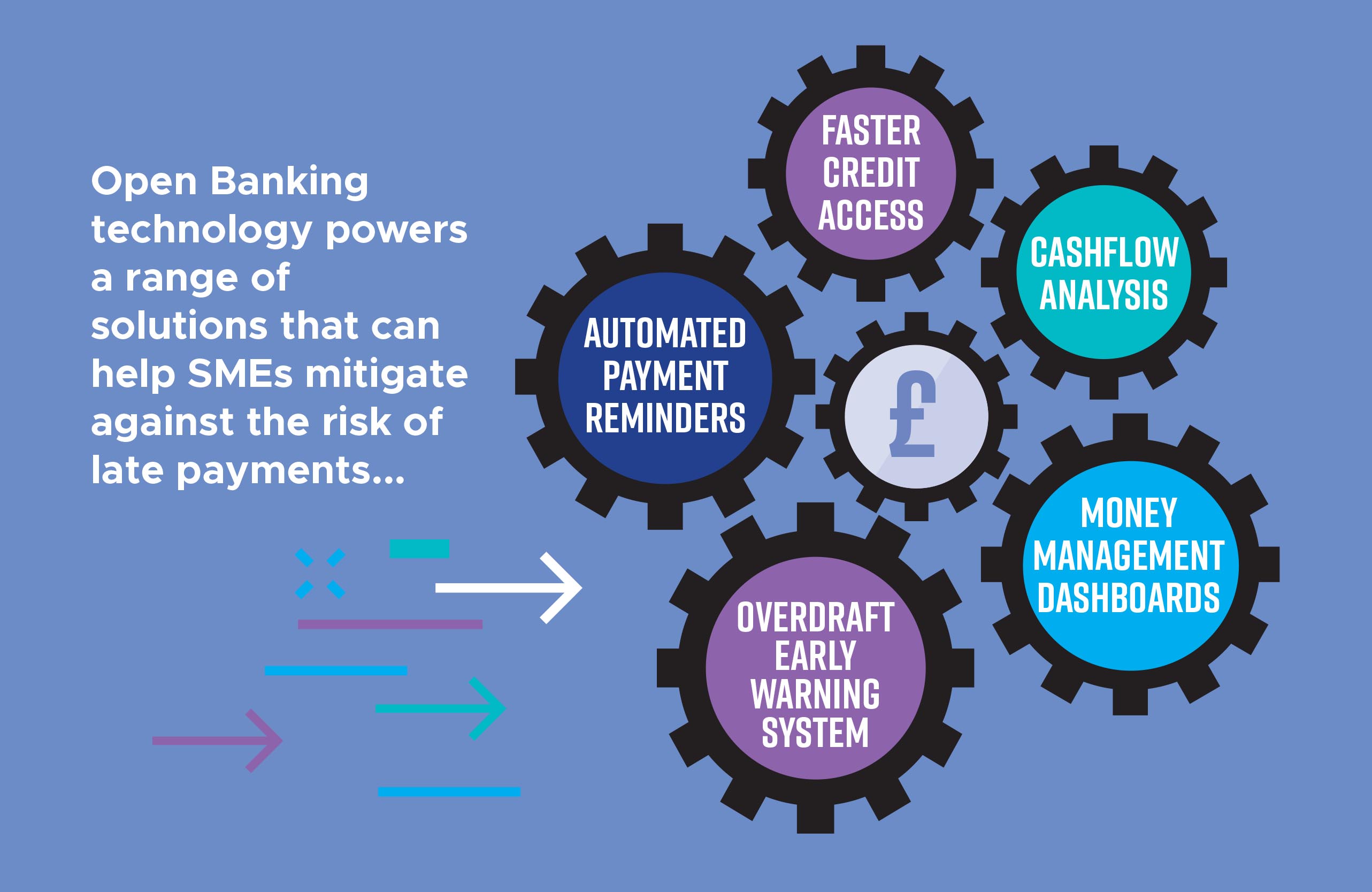 Products and services powered by open banking are beginning to make their impact felt since its introduction just over a year ago. Offerings are emerging to help small businesses manage their finances – providing greater choice and innovation across the financial services sector. As the technology and functionality of open banking continues to develop, and as innovators continue to break new ground in this space, there is much more to come in terms of products and services that could revolutionise how SMEs manage their businesses and mitigate against the risk of Late Payments.
Open banking alone cannot solve the issue of Late Payments. What it can do is empower SMEs with FinTech propositions that reduce the impact of Late Payments and enable them to better move, manage and make the most of their money. There is a healthy demand for faster access to credit, frictionless payments and cash-flow forecasting across the UK SME market. We look forward to seeing a steady increase in adoption, as entrepreneurs experience tangible improvements within their businesses. With payments and better mobile experience very much on the horizon, we look forward to hearing from more small businesses in the future on how open banking is enabling them to boost their performance, productivity and profits.
For more information on UK SMEs, read the recent "Small Businesses and Productivity" report, KPMG's whitepaper "Is Open Banking open for business?" Concur's whitepaper "Invoice Utopia: a Vision of the Future for UK Business" and the FSB's Small Business Statistics for 2018.
"Challenging a culture of Late Payment through Open Banking."
Nicholas Heller, Chief Executive Officer and Co-founder, Fractal Labs, discusses how the open banking ecosystem is building momentum around the challenge of Late Payments, and the role open banking has in challenging the underlying symptoms.
Last week, the Open Banking Implementation Entity gathered a group of leading FinTechs (including us at Fractal) with the UK Small Business Commissioner, Paul Uppal, to discuss an ongoing issue that significantly affects small business owners and their cash flow – Late Payments.
According to Sage, 17% of all payments owed to small businesses in the UK were made late, and 9% of those were eventually written off as bad debt.
Uncertainty around payments can be severely detrimental to a small business owner who relies heavily on guaranteed cash flow to support their monthly costs such as payroll, utility bills and rent. In some cases, Late Payments can be the sole difference between business as usual, or going bust.
Throughout the discussion, everyone was in agreement – there are a number of actionable solutions that can help solve or mitigate the growing issue, and there may be no better time than now to re-imagine transformation of the Late Payments culture we have in the UK.
How can Open Banking and FinTechs help with late payments?
Although challenger banks have been attempting to change the status quo around SME banking (Tide stated in December that they were able to secure 1% of the SME market through their banking platform), traditional banks continue to have the stronghold on the SME banking market.
However, according to YouGov, almost 47% of SMEs don't think that their banks are proactive enough at keeping them updated on matters that affect them.
Banks have the capital and the in-house experience to help SMEs. What holds them back is their legacy infrastructure, a model that is not fit to effectively deal with the challenges SMEs face in 2019 – in particular, understanding their cash flow, dealing with late payments and better access to finance.
Enter Open Banking which has made it possible for FinTechs to securely access historical banking data to help customers address these pressing issues.
At Fractal, the majority of SMEs using our platform echo what the YouGov data shows. That's why we aim to shine a spotlight on expected late payments through nudges and alerts and hope to go a step further this year by giving them actionable insights, specifically on late payments, such as: "John Lewis owes you £50,000 in three days. You will need this bill to be paid on time to make payroll this month".
Furthermore, by analysing the Open Banking data (along with accounting and payments data) which customers choose to share with us, we can give SMEs a single view on their current and future cash, send insights and suggest contextual financial products to cover dips in cash flow, caused by late payments, that suit the business' unique needs, in a timely way.
Fixing the cause, not just the symptom
Another idea that was discussed and that could work well is a SME 'Trustpilot' score. The aim of this would be to help SMEs understand the risks they are taking when they work with external corporations by increasing visibility on who tends to pay late, or on time.
As always, we should not expect these fixes to happen overnight. The issue will take time to resolve as the solution lies in the combination of FinTechs working with the various players in the Open Banking ecosystem, as well as complying with regulatory requirements and legislation, and pushing on the importance of financial education.
Open Banking for sure has a powerful part to play in starting to change the 'late payments' culture that's currently ingrained in the UK.
Open Banking for Consumer Money Advice
Open Banking has a role to play as a force for good in society. This video looks at a recent initiatives where Open Banking APIs have safely, securely and swiftly made people's financial and transaction data available to the organisations they have turned to for help with problem debt management.